NapkinG Luxury
Our Luxury Napkin range
---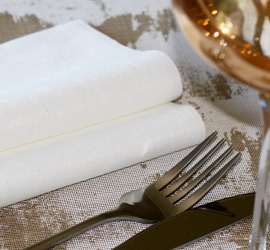 Napking Luxury Brand Grande (40cm x 40cm)
The NapkinG Luxury Brand is a unique napkin only available at Napking.
Our Luxury Brand material is for the discerning customer that is looking for a luxurious napkin that has a better look and feel than linen. The feel of Napking Luxury Brand is velvety soft and silky smooth and is better than any linen napkin available.
Napking Luxury Brand has the added benefit of being disposable therefore eliminating dry cleaning costs and the hassles associated with laundry.
The Napking Luxury Brand is disposable, compostable and exceptionally eco friendly.
Perfect for: 5 star establishments, dinner, weddings, banquets and events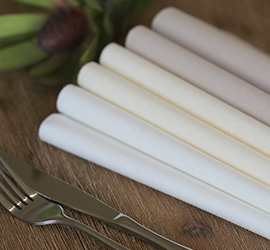 Napking Luxury Brand Slim Cut (20cm x 40cm)
The NapkinG Luxury Brand is available in our unique rectangular Slim Cut size.
The Slim Cut size allows you to offer your customers the Napking Luxury Brand at budget friendly prices without compromising on the excellent quality of the napkin. The Slim Cut size will look good on any table setting and provides an exceptional alternative to any napkin.
The Slim Cut is large enough to sufficiently serve the purpose of any good napkin.
Perfect for: Breakfast, lunch, dinner, room service, events and banquets
---