Welcome to NapkinG
Airlaid NapkinG ® a brand-new napkin every time
---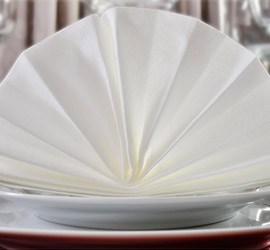 Welcome to NapkinG, the home of Airlaid Napkins in South Africa.
One of the first things you encounter when dining is the napkin presented on the table. The right napkin is key to any dining tables image and speaks to the standards expected. Make the smart choice with our collection of high quality single use Airlaid Napkins. A NapkinG Airlaid Napkin will enhance any dining experience and add to the overall satisfaction of your customers. The innovative Airlaid NapkinG ® material has the same look and feel as linen while being 100% disposable.
Reduce your handling costs and eliminate your laundry bill by using our beautiful range of Airlaid Napkins.
---